WHAT WOULD YOU CREATE ON WARREN FARM?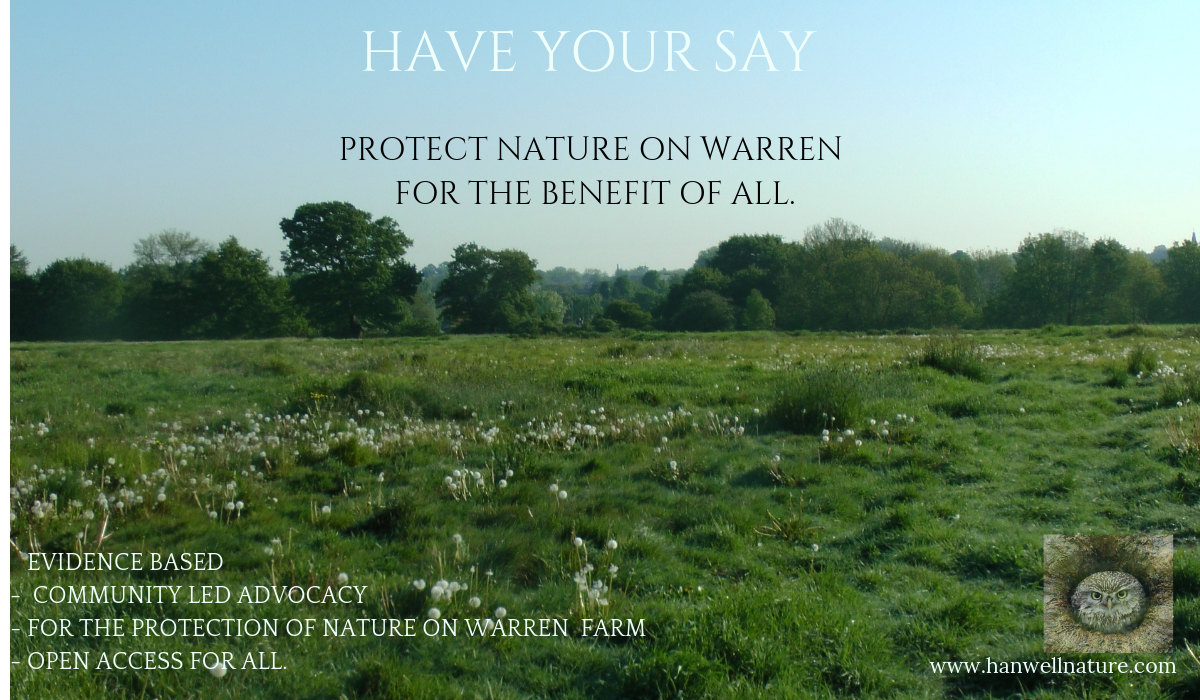 DO YOU WANT TO PUT NATURE FIRST?
Now that Warren Farm has been reclaimed back by nature, and the bio-diversity is incredibly rich, should we not be considering a "new deal for nature" by putting Nature's needs first over corporate requirements, so we can protect Warren farm as a site of "High" ecological value in the borough, vital to residents health over the next 200 years and beyond.
COMMUNITY ENGAGEMENT WITH EALING COUNCIL
TO SHARE A NEW VISION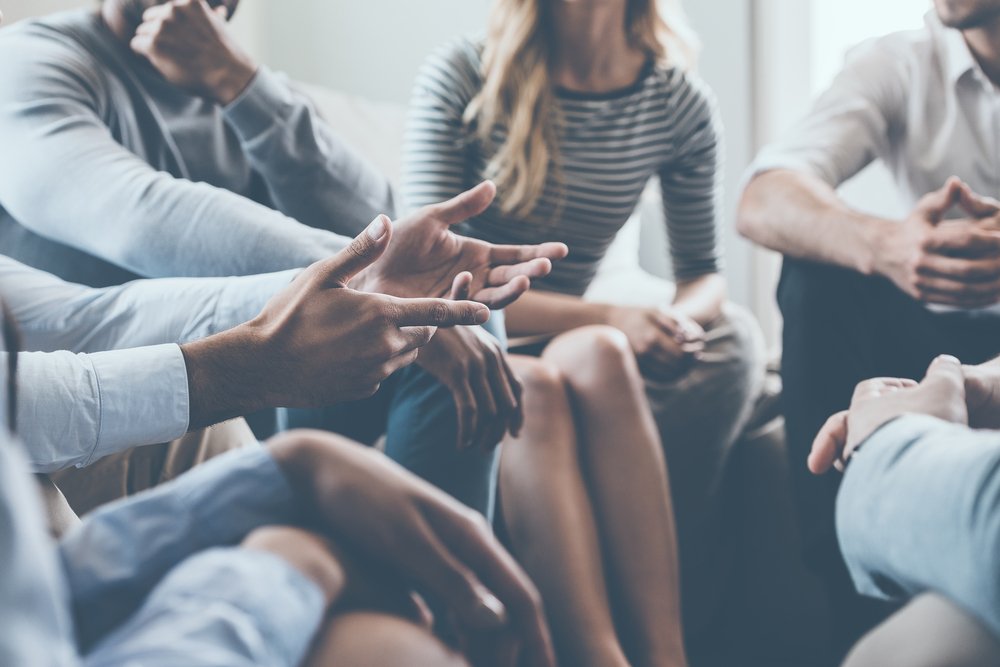 Your opinions support our message to the council that we need to be working together to help them explore new ideas and other options, so they may undertake all due diligence to protect the land for future generations, and ensure we/they are meeting our/their moral, social and environmental obligations to Warren farm and residents of Ealing for the next 200 years.
Biodiversity loss is more than an environmental problem, it is a development, economic, social and moral issue.
A Green Infrastructure Task Force was established following the publication of the London Infrastructure Plan 2050, which sets out the infrastructure needs for London over the coming decades. The plan acknowledged that green infrastructure must be considered as an integral part of the city's vital systems; as essential as the city's transport, energy, water, waste and digital infrastructure.
The main imperatives to come out of the committees findings and the report were to:-
Rethink Purpose
Reframe Value
Restructure Governance
Release Funding
Jullian Bell leader of Ealing council has this to say about the report :-
"London boroughs are currently responsible for managing much of London's green infrastructure and making the land-use planning decisions that affect its future. This report is timely; it provides a compelling case for the value and importance of green infrastructure and suggests new ways to make decisions about how it is managed and funded." Cllr Julian Bell, Chair of London Council's Transport & Environment Committee

We are thrilled to hear Mr Bell commit to the value and importance of Green Infrastructure having been a committee member on the Green Task Force committee. (you can read the full report the committee produced here ).

With Warren Farm being we believe the 3rd largest site of bio-diversity in the borough, perhaps its time to revisit the plans and protect its true worth to every resident in Ealing and London as a whole.

No comparable replacement for this loss of biodiversity is proposed.
When can we sit down and talk. Please email to arrange a convenient time to do that.
SHARE YOUR URGENT NEED TO PROTECT BIO-DIVERSITY IN EALING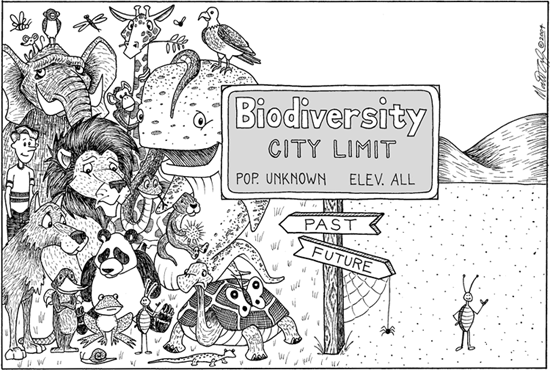 Biodiversity is being lost at an unprecedented rate. According to a recent World Wildlife Fund Living Planet Report, the populations of mammals, birds, fish, reptiles and amphibians have fallen by an average of 60 percent in just over 40 years.
Scientists

Gerardo Ceballos, Paul R. Ehrlich and Rodolfo Dirzo

have dubbed this decline an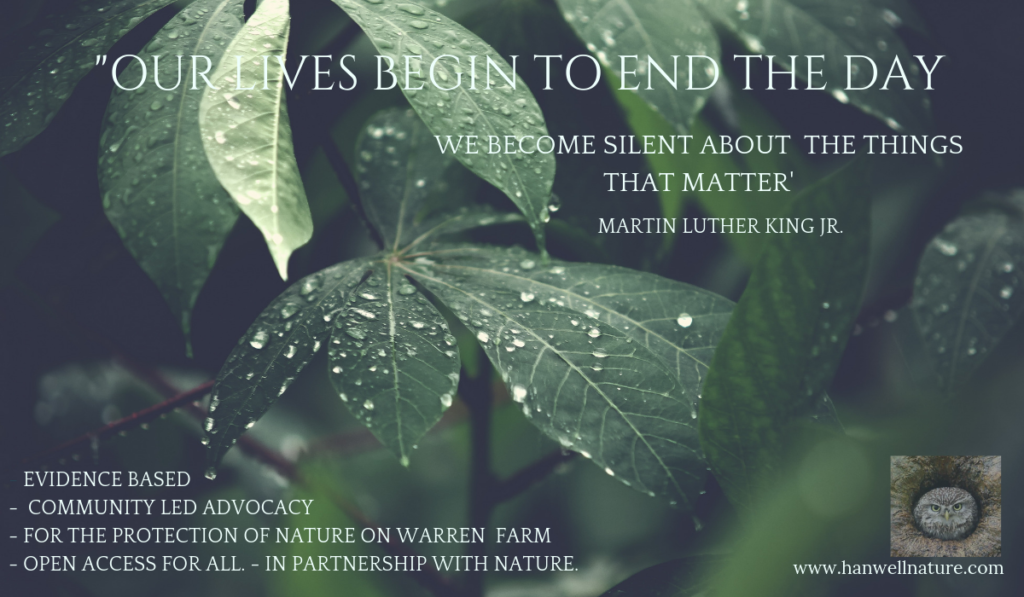 "Unless someone like you cares a whole awful lot, nothing is going to get better. It's not."

Dr. Seuss
"Globally, and on our doorstep, we need to work together to halt the loss of animals, plants and ecosystems. Our planet's unique web of life is absolutely critical for our future health and prosperity. Chair of Natural England, Tony Juniper

Natural England are working with people across society including land managers, ecologists planners and developers who are on the ground protecting and enhancing our rich variety of life. Their work supports the important goods and services our biodiverse ecosystems provides such as food and clean water and carbon storage, but also the provision of education, recreation and heritage, some of which form part of the United Nations Sustainable Development Goals – all needed for good health and well-being.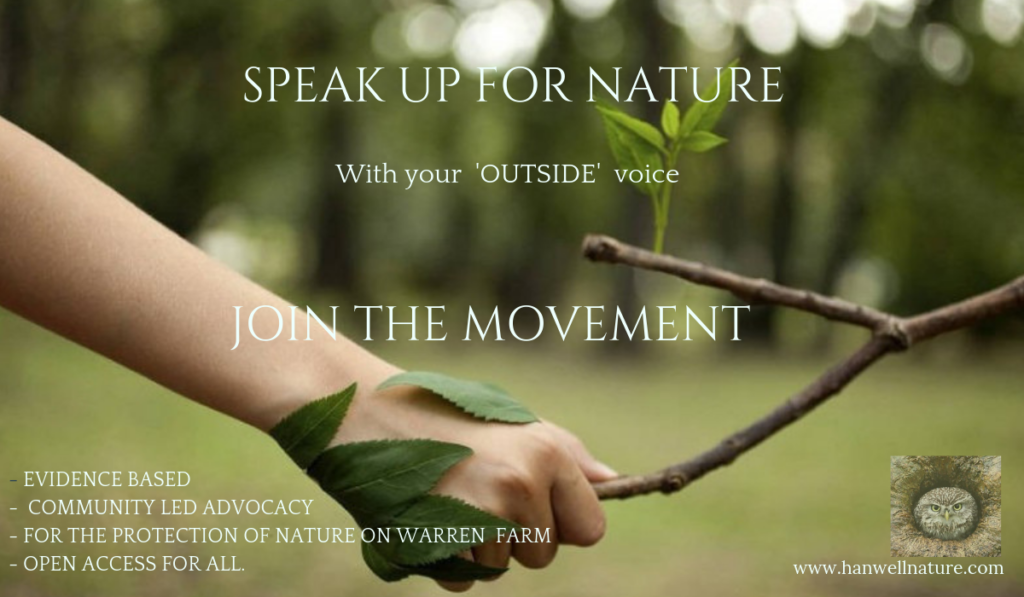 "As long as the world shall last there will be wrongs, and if no man objected and no man rebelled, those wrongs would last forever. Clarence Darrow
JOIN THE DISCUSSION HERE.
What would you like us to share with Jullian Bell and Sadiq Khan.
Add your comments below in the comments section.
Reply to other comments that stimulate a response.
Write to them here.
Share your feelings and ideas to help protect public open land for future generations.