COUNCIL PUSH AHEAD WITH PLANS TO DEVELOP WARREN FARM NATURE RESERVE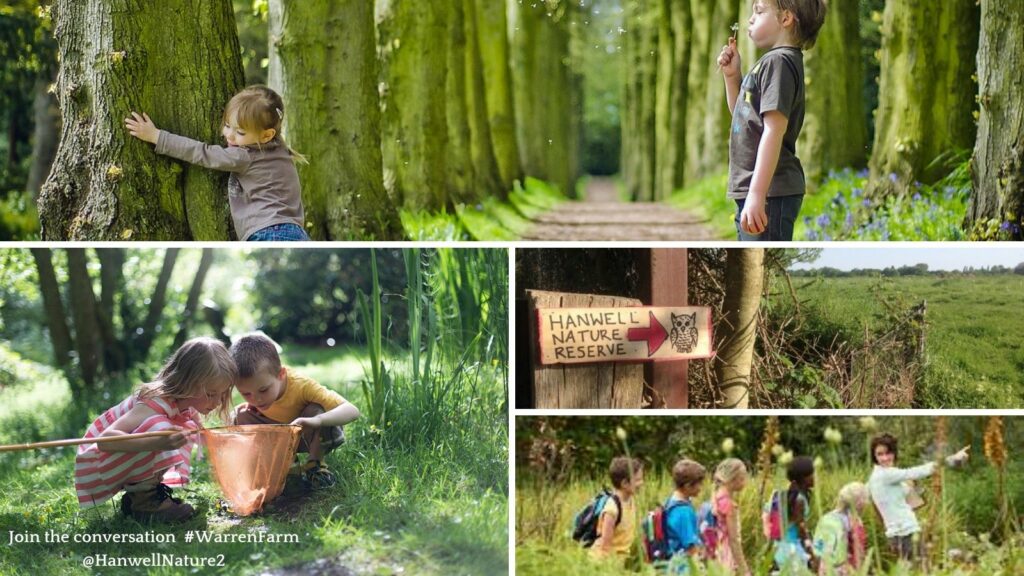 Local campaign groups fight back with support of Councillors who call the decision in to the Overview and scrutiny committee.
We have already seen the disastrous premature decision by Ealing Council on (25th January 2023 to finalise documents including a development brief without any key nature assessments/surveys or a report with recommendations and requirements on how to protect nature on the site?
We can't even begin to get our heads around, how the committee could rationally recommend to proceed without that data with which to base the validity of their decision to proceed.
If you don't have any meaningful data on exactly how or if the wildlife will survive in this proposed plan, then how can you make a decision to create a Nature Reserve/sports ground. If you don't understand what you do need to to ensure it will succeed. A sense of genuine due diligent care-taking of this remarkable existing nature reserve was severely lacking in the cabinet report entitled, the future of Warren Farm sports ground.
The emphasis was on the retrospective assertion that it is a sports ground which is nonfactual and utterly disingenuous, when Warren Farm Nature Reserve has not been used for sport for 14years. The fact is Warren Farm is not just another empty space of low ecological value but is already, one of the finest examples of existing rewinding and the only home to Skylarks in the borough 1 of only 2 sites in London.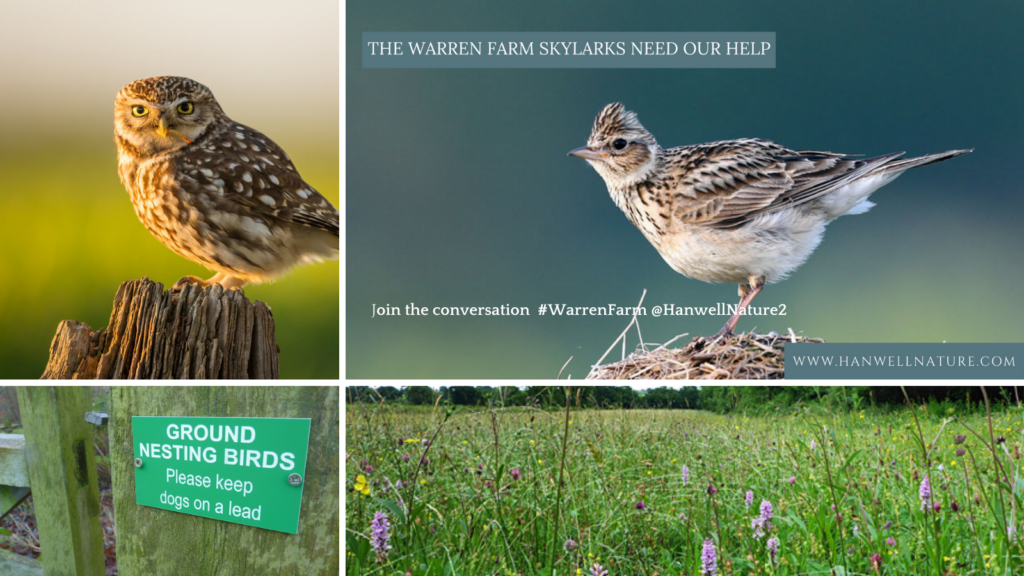 On the one hand, in Ealing's biodiversity plan, they say the breeding ground needs protection and then at the cabinet meeting, they offered no evidence or guidance on how to protect the wildlife on the site.
It was alarming that absolutely zero evidence was given at all to guide the committee as to what the ground nesting Skylarks require to continue to thrive on the site if sport provision was placed feet from their breeding ground. There was a distinct lack of even the vaugest of understanding as to their need to return to the same space on the site,year in year out, to continue breeding.
Nor did they indicate that the Skylarks breeding areas are smack in the middle of every configuration they are considering to site the sports facilities on. With no comprehension of the areas on the site that provide the exact composition of land cover and acid grassland they require.
Skylarks, do not and have never nested on any of the other areas that are being offered as Nature reserve areas. But the council seemed oblivious at best and uninformed at worst to this most important fact.
It's pointless to pay lip service in Ealing's Biodiversity action plan (BAP) that they need protection, but then have no information or the benefit of any assessment on which to base their plan to protect the only skylarks in the borough. And we see a major problem proceeding without one.
This report given to guide the cabinet in their decision, only gave weight to what the sports strategy has to say, and its' apparent urgent need to destroy 25 acres of pristine already thriving re-wilded land to achieve its' aims.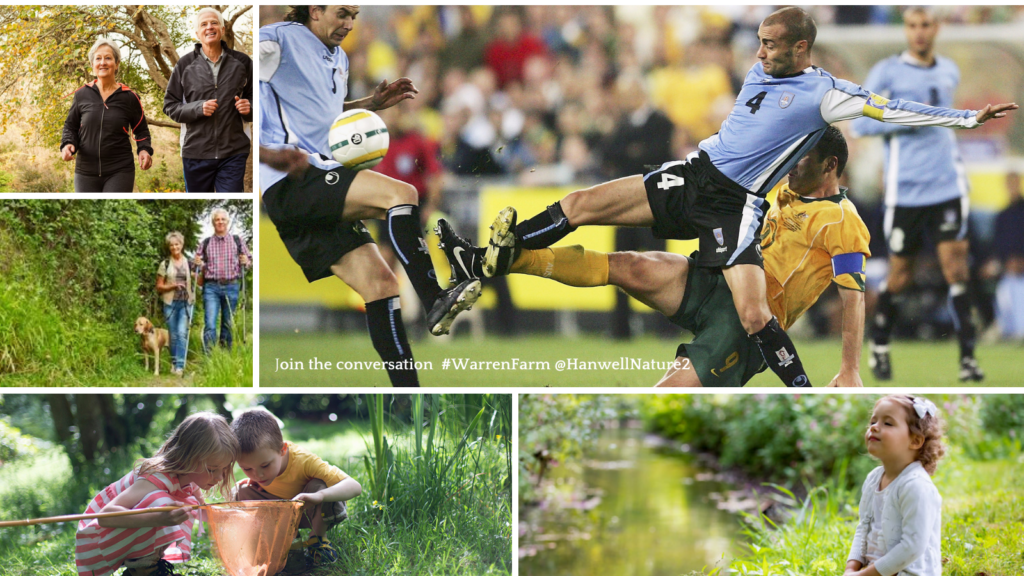 What we are seeing is a un- challenged and un-evidenced myopic focus on the idea that sports provision is more important than addressing climate change. This is not about a sports crisis for some in the borough, we are all in a climate crisis together.
Sean From Ealing Wildlife Group
Hanwell Nature spoke at the Cabinet decision meeting 25th January 2023
Having being given the opportunity to speak, at the cabinet meeting on the 25th January 2025, Hanwell Nature shared our view.
"Warren Farm is not just another empty space of low ecological value, but one of the finest examples of existing rewinding and the only only home to Skylarks in the borough; both deserve the highest protection and consideration, which is outlined in your Biodiversity plan.
Whilst any land being put forward to be designated at LNR, is an applaudable thing to do in a time of climate change,the decision also being taken tonight is to finalise documents including a development brief.
However, we believe this decision to be premature, in that we strongly believe that the decisions to do so is not backed with sufficient up to date ecological assessment data or sufficient report detailing the required protection for Skylarks and nature on the sites.
Therefore we have shared our concerns in a letter from our solicitors with the Chair and Mr Buntin, that we had asked to be shared with you prior to the meeting, So I hope that you have had time to consider it. The main thrust of the letter, was that we believe it would be highly unwise to enter into a development brief before knowing what you are working with in terms of protection for Skylarks and Nature and in terms of the land quality of the various areas in question.
We believe that without a current ecology/report/study, with recommendations and requirements on how to protect the considerable nature on site, we cannot see how the committee can rationally recommend to proceed to finalise the development brief and identify suitable delivery partners for the site.
We firmly believe that Ealing Council should be commissioning a Natural Capital assessment on Warren Farm, so that we might gain a balanced view between what the meadow is worth to Ealing Residents as an educational centre and Nature reserve in its entirety, and what the exact value there is in preserving the Natural Capital stock assets Warren Farm provides through the flow of benefits to residents and the economy, versus simply providing more sport in the borough.
Therefore we request that this decision be delayed until such reports and assessment are produced.
We also would like to suggest a scoping out exercise for the potential of siting of any new sports provision on Wyncote farm which would be a positive conclusion all round, and has existing transport links where Warren Farm does not."
Could we just be sensible here?
What would have been sensible is if the committee were voting on the commissioning of such reports before agreeing to finalise development briefs and identifying suitable delivery partners for the site.
We would want to see these decisions being taken in the round, with a far greater degree of evidence of the protecting for nature, providing certainty that these decisions are not being taken in isolation without first weighing the needs of the sports strategy against the need to protect our ever diminishing natural assets, and you need that data on the table to be able to make those decisions, but it was absent from the Officers report.
Also in order to get Local Nature Reserve status the site needs to be evaluated, and there is nothing being presented that shows an ecological study of the Imperial Collage land to know if it would even meet LNR status. The whole things is cart before the horse, and Samantha O'Connor made Hanwell Natures' statement clearly on this at the cabinet meeting on 25th January 2023.
There is an urgent need for skylark assessment and it is reckless to get into a development brief before they know what they are working with in terms of land quality in the different areas, and an exact plan of what is being included. Along with a detailed ecological report of the land that is currently thriving and has already been re-wilded.
You can't just willfully destroy half of that without a plan and timeline based on specialist reports that give a guideline as to how long it will take to re-create on the species poor land of Imperial College. If it ever will, and indeed how it will if the land is being grazed by horses.
What we need is a concrete statement of what is to be done with the IC land, if the tenants is going to remain, and if so how they see that that land could possibly be included as a LNR.
Then there is the matter of the Ariel flyers, who also believe they are still continuing to stay and fly on the site, competing with the dog walkers and joggers, on what is left of the land with the Skylarks and other wildlife, it just doesn't add up, period.
The locals who wholeheartedly supported the previous legal action taken by Samantha O'Connor of Hanwell Nature that saw off Q.P.R, and the current excellent work by Warren Farm Nature Reserve and Ealing Wildlife group are shocked and find this whole proposal an insult to their intelligence. This is not a win win, and won't be London's biggest re-wilding project, if you have to destroy 50% of existing pristine biodiversity, and loose the only skylarks in the borough to get there.
The council have yet to demonstrate that they understand how Warren Farm Nature reserve currently works for nature, or how it functions, or what it needs to survive, and this is a very sad day for ecology and nature preservation in Ealing if this is how these decisions are being made.
Our request was that the decision was premature, and should be delayed until such assessment and reports were commissioned and presented to see if their whole scheme is even viable let alone deliverable. There seems to be too many unanswered and unacknowledged details to pretend otherwise. There is no joined up thinking here, and it looks like Ealing Council are just steaming ahead playing fast and loose with the boroughs green assets, keeping their fingers crossed with mere hope and "win win" hype that sports and Nature will thrive together here, which we believe is entirely unachievable.

We support Councillors efforts.
So we applaud and wholeheartedly support the efforts of Councillors Gary Malcolm, Athena Zissimos, Connie Hersch, Gary Busuttil, Jon Ball, Andrew Steed, Julian Gallant, Anthony Young, Seema Kumar, Fabio Conti, and Gregory Stafford for rightfully calling this decision in at the Overview and scrutiny meeting tonight, and we wish them every success.
We support everyone of their reasons to do so, and we rely on the O&Sc to challenge assumptions and assess clearly what risks might arise from the implementation of this decision. It is within the power of the O&Sc to recommend that the Council
GATHER MORE EVIDENCE

• Undertake consultation through public meetings, surveys, workshops and focus groups
• Carry out site visits
• Source data and reports
• Interview experts
• Conduct focus groups and workshops
•Allow local interest groups to work directly with officers and Councillors to inform and research the depth of the real true issues.
WE THEN WANT EALING COUNCIL TO EVALUATE THAT EVIDENCE
• Consider all the evidence in the context of the scope of the whole project
• Look at evidence alongside other sources of data such as Natural Capital assessment and EIA to gain a comprehensive view of the performance of a Nature reserve alongside Sports Grounds and the best use of this borough asset for its' residents.
WE HOPE THE COUNCIL WILL WORK WITH LOCAL RESIDENTS - AND THAT LEGAL CHALLENGES BECOME UNNECESSARY.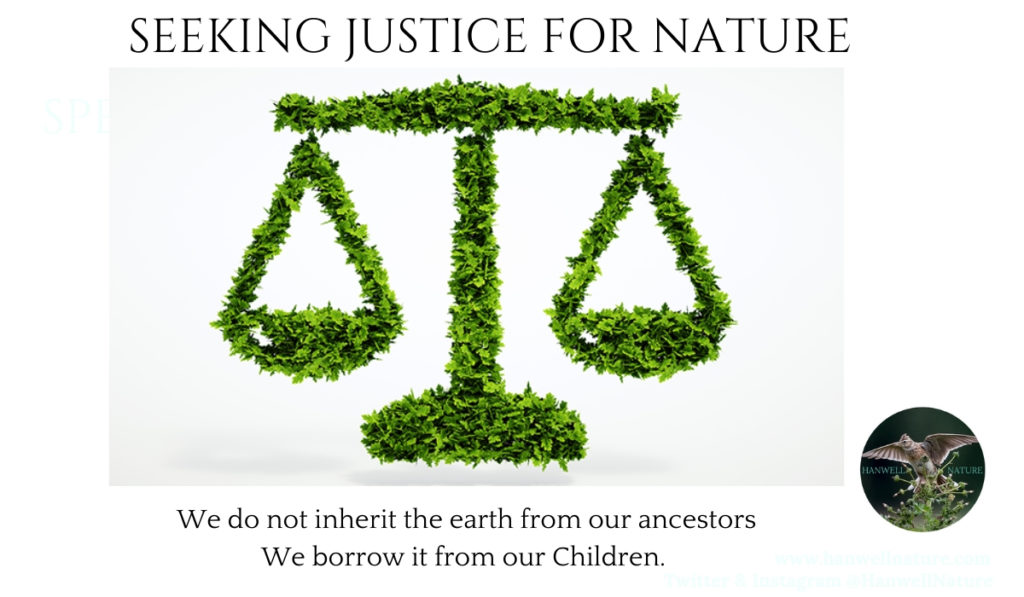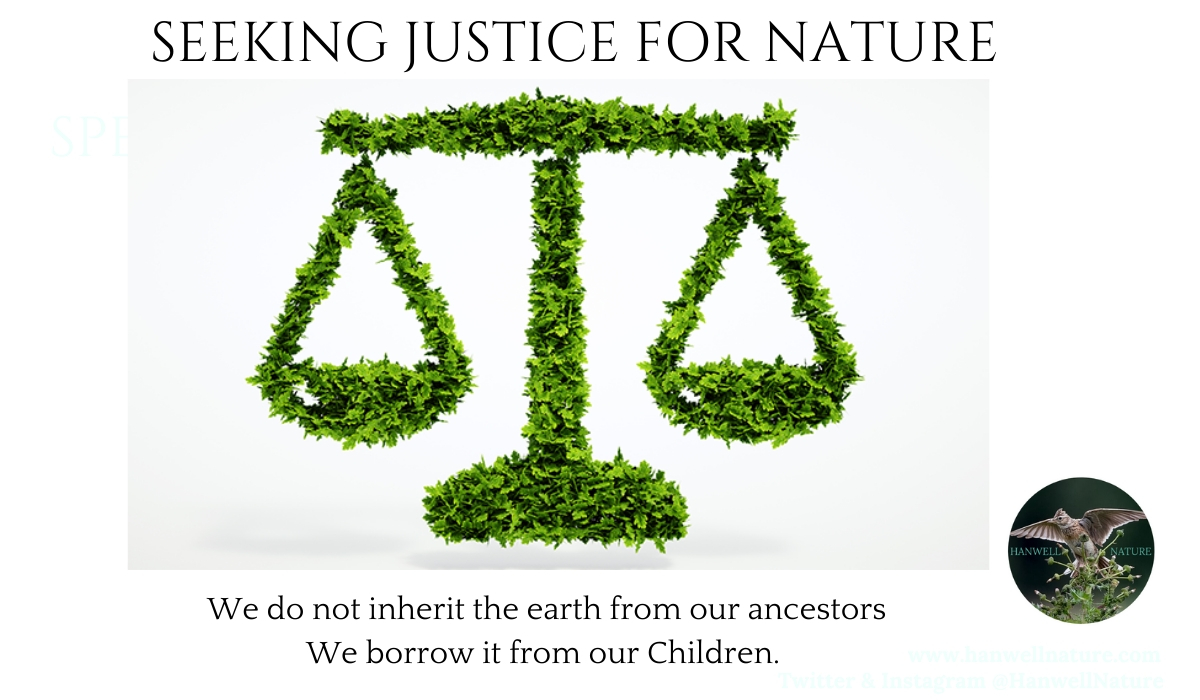 As it stands Hanwell nature will continue to observe closely and challenge if necessary the legality of these and any other decisions the councils makes on the future of Warren Farm and Founder Member Samantha O'Connor have instructed solicitors to send 2 letters offering insight into how we believe this current decision can be challenged.
A letter to the Overview & Scrutiny Committee accompanied by the first warning letter that was sent to the council on the 24th January 2023, was sent yesterday for their information. It lays out clearly that as a previous claimant she is ready and poised, to challenge Ealing Council's decision to proceed as is, and we see grounds to do so.
Everyone wants to trust the council it its' assertion that they know best, yet they are unable to show the evidence of that, or to take on board the advice of specialist and concerned residents that are genuinely trying to help guide the council. They seem to be basing their plans for 'Londons' largest rewilding project on mere hope and "win win" hype that we believe is entirely currently undeliverable and cannot go unchallenged.
Our hope is that it adds further legal weight to the considerable people power harnessed by the Warren Farm Nature Reserve Group petition, conveying local support, (currently standing at 19,222k and the expert advice and consideration for nature from Dr Sean Mccormick from Ealing Wildlife Group, and Dr Mark A. Spencer, assists the Overview and Scrutiny Committee, giving them enough reason to request Ealing pause for thought and go back to the drawing board on this one!
We await this keystone decision on Warren Farms future tonight.