Dear Mr Bell and Mr Khan,
We at Hanwell Nature have a proposition for you. We have found a philanthropic investor who is open to invest in our 'alternative vision" for Warren Farm.  Who is prepared to support, by setting up a team, to finalise the proposal/business case and underwrite the costs of creating Warren Farm as a bio-diverse nature reserve.  He is prepared to put a team of business advisors at our disposal to create a viable business plan, raise any further investment through grant funding, and support the project through to fruition. This would result in the creation of Ealing's largest biodiverse Nature Reserve, the largest existing conservation open space in the borough,  creating a 45% biodiversity gain for the entire Borough.   A sincere and valiant commitment to protecting nature, and addressing climate change.
He is prepared to lease the land if required, creating a return for Ealing Council.  We believe this represents a far more equitable deal for the residents of Ealing, existing wildlife, and the environment over the ' deal'  currently on the table, that represents an inequitable exchange of public assets for no real sustainable financial return.
With the well advertised deficits in Ealing's budget, the proposal allows for financial gain to come back to the public purse, at no cost to the borough to secure it.
What the community needs is open, free community access to nature, and we have a plan that will allow that at no cost to the borough, that keeps the land open to the public, with free access and does not require a year long environmentally polluting 'landfill scheme'. A 10 month scheme that will see the importation of thousands of tons of landfill that require the use of dust suppressant and deodorising spraying, to try to stop the resulting airborne detritus from descending on local residents. A plan that will see the site open to the public and nature immediately, Not the year long landfill processes, followed by another year of building works, to ultimately close the site off from public free use, and destroy the irreplaceable existing nature, and felling of up to 100 trees.
Given due consideration, we believe that you will embrace the plan and be able to see the benefits of keeping the land open to all for the next 200 years, whilst supporting and protecting the existing wildlife, bringing a much needed bio-diversity gain to the borough.

The London Plan identifies the need to protect biodiversity and to provide opportunities for access to nature. It recommends identifying and protecting a suite of sites of importance at Metropolitan, Borough and Local Level in order to protect the most important areas of wildlife habitat, providing Londoners with opportunities for contact with the natural world.
Warren Farm  has birds and mammals of conservational importance that are Schedule 1 and Red-Listed. Barn Owls, Red Kites, Woodpeckers, Bats, the only breeding Skylarks in Ealing.
The Mayor's Biodiversity Strategy sets out criteria and procedures for identifying such land for protection. His strategy hinges on the preservation of Green Spaces. Warren Farm represents a vital opportunity to fulfill this strategy.  So why would Warren Farm's vital contribution have been ignored?
OUR PLEA IS TO RECONSIDER AND ALLOW THE EXISTING WILDLIFE TO FLOURISH. PROTECTING THEIR IRREPLACEABLE HABITAT, WHILST SUPPORTING THE COMMUNITY THAT VALUES AND TREASURES WARREN FARM AS OPEN GREEN SPACE.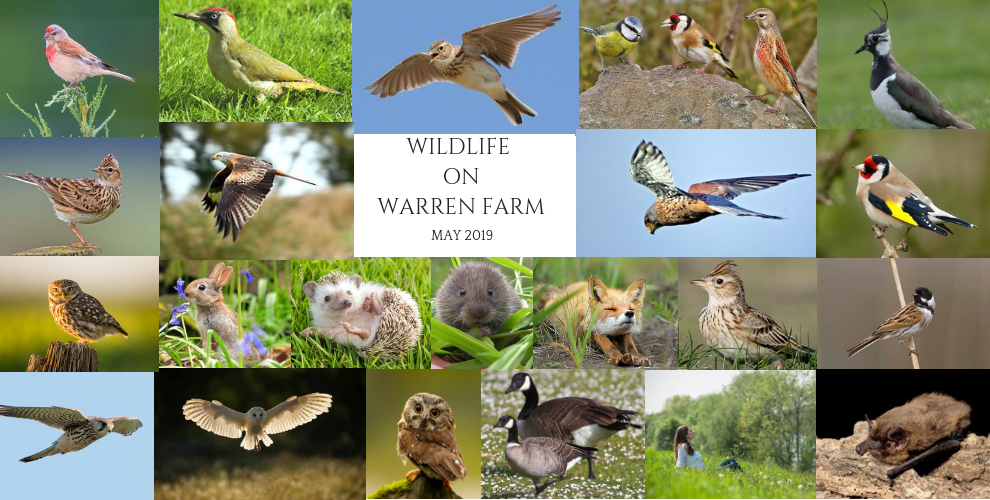 The plan allows for the meadow to be held in trust in perpetuity as public land for people and nature.  Again, this represents a fantastic opportunity for every existing resident of Ealing for generations to come, and would be a fitting legacy for your administration.
SOME IDEAS THAT RESIDENTS HAVE SHARED THEY WOULD LIKE TO SEE INCLUDED :-
A partnership that works with nature existing on the land, rather than dominates it, making nature a feature, not an afterthought.
Focus on enhancing the space as a Bio-diversity nature reserve first, visited by residents and tourists for learning, recreation and nature watching.
A small eco- sustainable centre for community and educational school use.
Community growing allotment spaces, producing produce for sale with tuition and best practice management.
An organic cafe served by food grown on Warren Farm – grown by apprentices and created by apprentices, creating skills training and employment.
A space that puts nature first, open to all to appreciate and learn.
A sustainable chemical free development,  that increases the bio-diversity gain for the borough.
A plan that supports Ealing's local Variation-Green Infrastructure: Policy 2.18 of the Development Management plan, the network of Open and Green Spaces.
A development that does not compromise the visual openness or heritage value of this Metropolitan Open Land, and the surrounding open views to both Hanwell and Norwood Green.
A plan that allows and complements the coherence this green and open space affords, being designated by the Greater London Authority as a Grade 1 Site of Borough Importance for Nature Conservation for its flora and fauna) and maintains its integrity in fulfilling the complementary functions of nature conservation, heritage conservation and recreation as an overriding principle governing its use.
A plan that does not increase the existing development footprint, complementing the Metropolitan Open land and the 'countryside' feel of the area.
A plan that protects this Site of Importance for Nature Conservation in its entirety and keeps the land open to all, for generations to come.
A plan that does not require a year long environmentally destructive land fill scheme, a plan that would not destroy the established wildlife and complex biodiversity that has flourished and re-claimed the site. .
A plan that would not require the importation of 180,000 cubic metres of unqualified landfill. Delivered by 150 HGV trucks a day, totalling 300 trips in and out of the site each day; polluting the environment.This amounts to 750 truckloads per working week (1,500 truck movements in and out of the site);  an astonishing 3,000 truckloads, per month (6,000 truck movements), totalling an astounding 24,000 truckloads (48,000 truck movements in and out of the site), delivering the landfill alone, a year long program before any building works began. Only to maximise return on investment to the site by creating more sports pitches for hire for the developer.
A plan that would see the site up and running, contributing to the economy and residents of Ealing years before any planned use is possible within the current plan.
A plan that would not increase air pollution from truck movements or the need for dust suppressant deodorising spraying, as seen at Southall Gas works development, and the ensuing disturbance and health issues to residents.
A plan that would encourage residents from both sides of the site to access by foot, and bicycle, and encourage exercise whilst on site through nature trails.
A plan that creates a positive message of Ealing Council's commitment to residents for generations to come.  A message that demonstrates a valiant and fiercely protective stance towards the environment, bio-diversity and green open spaces for all.
Run as a Community Interest Company set up by a collective of residents, financed by grant funding and initial independent capital investment to re-develop the changing rooms and reception to support the site for community use.  It is our hope that the CIC will be given the lease to run the land as a nature reserve. This can happen at no cost to the council. Creating a world-class urban bio -diverse haven for wildlife, humans and children for many generations.
An eco-sustainable small visitors and education community centre with organic cafe and small meeting space.  With focus on the wildlife and nature that surrounds it.
Can we talk?  We urgently need your feedback on this exciting proposal, which we know you are going to see the many benefits of.  It could prove to be one of the most inspirational projects in Ealing to date , and it presents biodiversity gain for the borough.
We are at a crossroads, and we need your help.
The breakdown of our climate is no longer a fringe concern, but is increasingly recognised by the public as an urgent existential threat to both nature and human society. The gap between our awareness of that threat and the inadequacy of our current response has become clear.   The time for action is now.  We cannot address biodiversity loss without tackling climate change, but it is equally impossible to tackle climate change without addressing biodiversity loss. Protecting and restoring bio-diverse ecosystems can help us reduce the extent of climate change and cope with its impact.

We know you have many issues taking your attention in the borough, but this could be effortlessly achieved by engaging with our diligent detailed ecological surveys & research on the meadow, that we share from our team with you daily onTwitter @HanwellNature. As well as, engaging with us in conjunction with other local residents and nature conservation stakeholders.   We have all the resources to achieve it we just need your support – when can we meet to discuss?

"It's harder and harder to experience landscapes that have a predominantly rural character within London.  That's something that we think is vital to quality of life, and local campaigners believe it should be included in the plans to make London the first national park city to help make London a greener, healthier and fairer place to live. The benefits are clear. From children's development to improved physical and mental health, active engagement with nature is key to a better quality of life for Londoners".

[London National Park City]
We humans and the stunning multitude of other living creatures on this earth are completely dependent on each other. Our beautiful green and blue planet is our shared and only home. We have a choice. We can destroy and degrade our natural capital for short term gain, and leave an impoverished inheritance for future generations. Or we can preserve and enhance the world -for ourselves, for future generations and for all the other creatures who share the globe with us.
STARTING WITH WARREN FARM.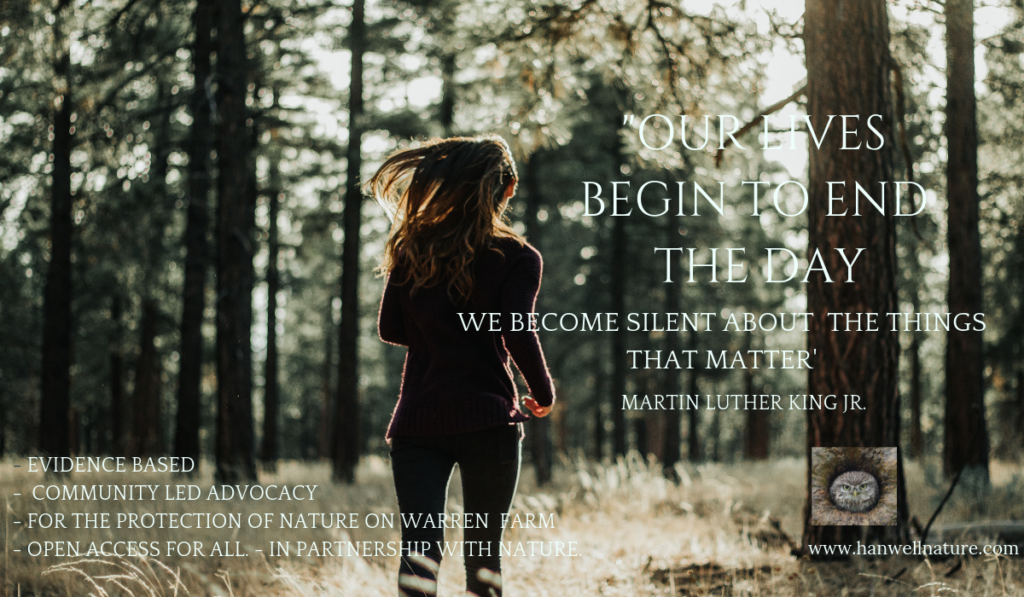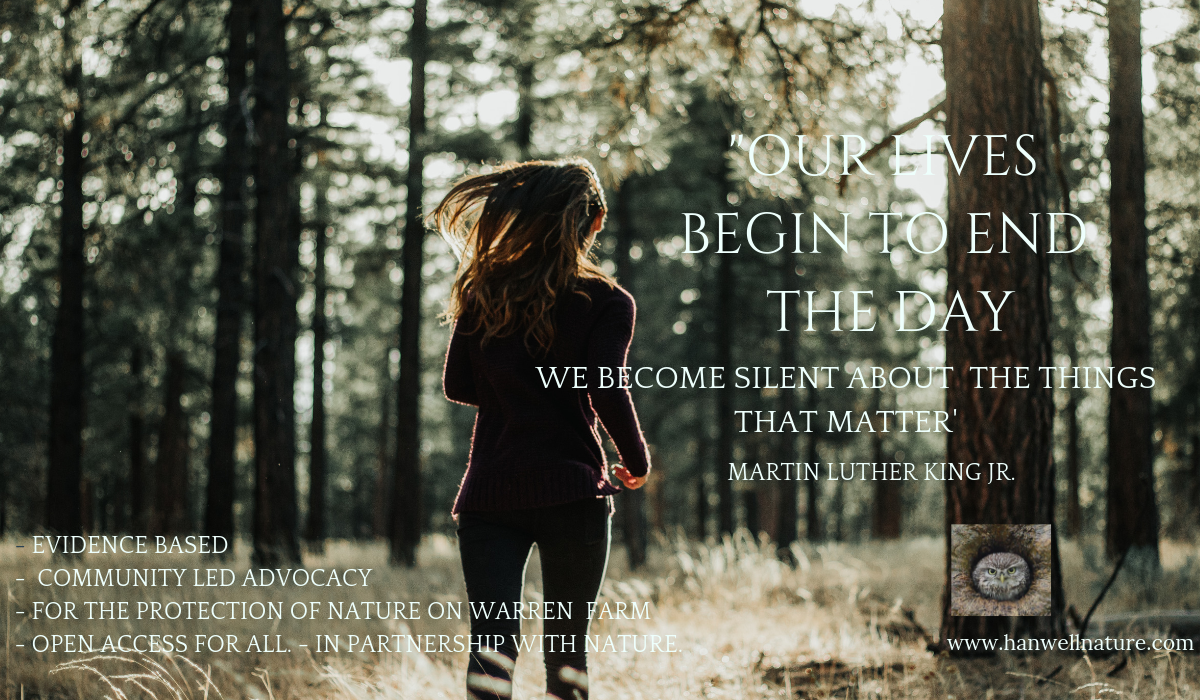 Biodiversity loss is more than an environmental problem, it is a development, economic, social and moral issue.
A Green Infrastructure Task Force was established following the publication of the London Infrastructure Plan 2050, which sets out the infrastructure needs for London over the coming decades. The plan acknowledged that green infrastructure must be considered as an integral part of the city's vital systems; as essential as the city's transport, energy, water, waste and digital infrastructure.
It's main imperatives were
RETHINK PURPOSE


REFRAME VALUE

RESTRUCTURE GOVERNANCE


RELEASE FUNDING.



"London boroughs are currently responsible for managing much of London's green infrastructure and making the land-use planning decisions that affect its future. This report is timely; it provides a compelling case for the value and importance of green infrastructure and suggests new ways to make decisions about how it is managed and funded." Cllr Julian Bell, Chair of London Council's Transport & Environment Committee

We are thrilled to hear you commit on the value and importance of Green Infrastructure having been a member of the Green Task Force committee.  ( read the full report the committee produced here ).

With the potential for Warren Farm being the largest site of bio-diversity in the borough, perhaps its time to revisit the plans and protect its true worth to every resident in Ealing and London as a whole.

As the first country to declare a climate emergency, we cannot be seen to rest on vacant words when intervention could create an invaluable and irreplaceable legacy for your administration and future generations.

Business as usual cannot continue. 
When can we sit down and talk.  Please email to arrange a convenient time to do that.